I'm very excited to introduce you to a wonderful woman who publishes the fantastic blog "Chocolate, Chocolate and More".  Joan has been a mentor to me every since I met her last year.  She is the type of person that as soon as you meet her, you instantly like her.  She is warm, funny and caring.  She is also amazingly talented.  Some of you may know her from Thursdays Treasures, our link party that we co-host with the absolutely amazing, Debi, Recipes For my Boys.  I am so happy Joan agreed to guest post for me.  I know you are going to love this recipe.
Thanks so much for having me Christie!
I'm Joan and I blog over at Chocolate, Chocolate and more. I love making sweets but also have a passion for bread making. Of course my family has to eat "real food" so you'll find a little of everything (but mainly sweets!) on my website.
Since Christie's recipes are a little healthier that what I usually share. I thought a recipe that is adaptable was in order.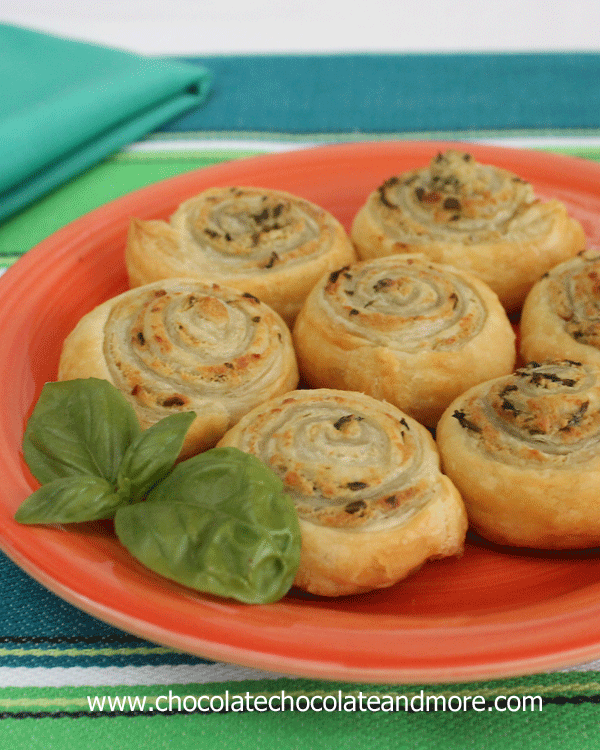 Summer is officially here. At least at my house it is. We planted an herb garden this year and have been enjoying the easy fruits of our minimal labors. One of our favorite new snacks is Basil Pesto. My son will eat it spread on anything, triscuits, bread, he'll even dip celery in it. We've now got an entire row dedicated to basil just so we'll have enough for everyone to enjoy.
One way to make that pesto go a little farther, is to make yummy appetizers. Puff pastry is a staple in my freezer. Perfect for sweet or savory and so easy to work with. My girls love making up this Brown Sugar Cheese Danish to amaze friends at sleepovers.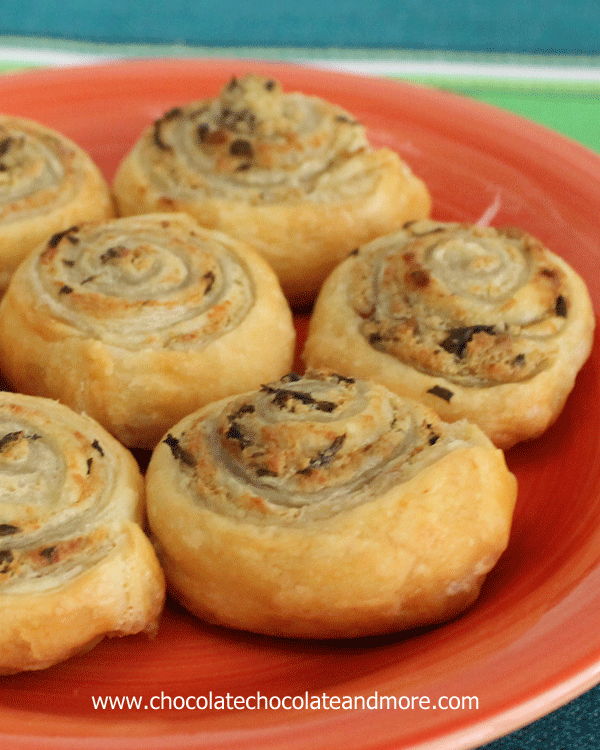 Pesto and Cheese Puff Pastry Appetizers
2 ounces cream cheese softened (low fat works well)
2 tablespoons grated parmesan cheese
2 tablespoons prepared Pesto (or make your own!)
1 sheet puffed pastry, thawed
Preheat oven to 400 degrees.
Lightly grease a large baking sheet, set aside.
Prepare filling. Combine pesto, cream cheese and Parmesan cheese together. set aside.
Unfold puffed pastry on lightly floured surface. gently roll with floured rolling pin to mend any cracked seams.
Spread filling evenly over puffed pastry. Starting at long end of pastry, roll up jelly roll style.
Slice rolls to 3/4 inch thickness and place on prepared baking sheet. Bake for 20-22 minutes, until golden brown and crisp. Remove from oven and serve warm.
Makes 14-15 pastries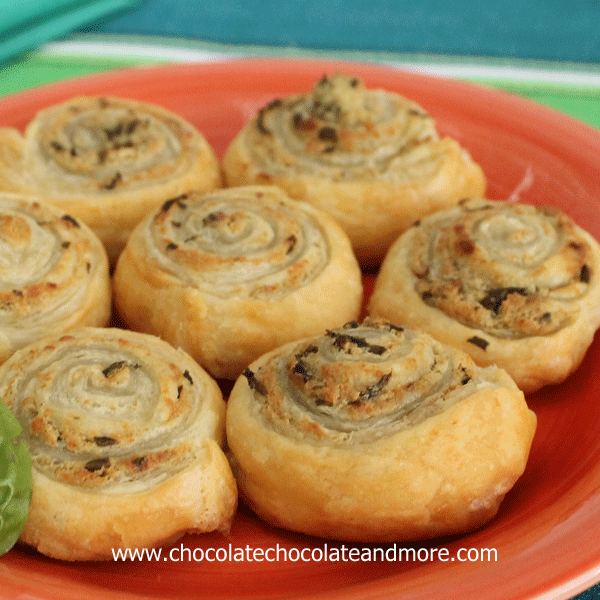 You can find more of my recipes here or connect with me on Facebook, Google + and Pinterest
[jetpack-subscription_form]